Care Ambassadors
The aims of the Care Ambassadors Scheme is to: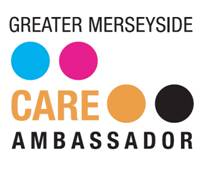 Raise the profile of careers in social care among communities, young people in schools colleges, people returning to work after long absences, unemployed, lone parents and people who are leaving benefits such as Incapacity

Demonstrate the wide range of professions, career routes and opportunities which are available

Highlight the rewards such a career can offer. 
The Scheme was created and developed by Skills for Care South West and is now rolled out nationally. In the North West there are three long standing schemes based in Bolton, Manchester and Stockport. With new schemes being developed in various areas including Greater Merseyside.

Care Ambassadors are care professionals with the commitment and enthusiasm to change perceptions about careers in social care. They will, with the appropriate training and support, have the ability to engage with all members of our communities including students, teachers, parents and other target groups to explain their job roles, qualification pathways and career routes. They will facilitate workshops, make presentations and act as mentors for other new up and coming Care Ambassadors.
The Care Ambassador Team & Supporters
Care Ambassadors will be well aware of the recruitment issues in social care and will want to play their part in improving the quality of the workforce. They will be positive about their own careers and will have the ability to promote social care as a positive career choice, attracting people who "want to do it" rather than just "end up" in social care.
Care Ambassadors can also see the potential for their own skill and career development through the Care Ambassador experience. For example child care practitioners report the benefits of meeting a cross section of young people, rather than the small sample of young people that they usually meet in connection with their professional capacity.
When asked about their experience of being Care Ambassadors people use the word "buzz" to convey the enjoyment and sense of achievement they get from doing presentations and promoting an understanding of social work and social care.
If you are interested in learning more about the scheme or would like to become a Care Ambassador please contact Skills for Care